Our Noteworthy News
So much is happening in our small district! One of our goals is to help keep you informed of all the changes and positive activities taking place. We'll be updating this page frequently with the latest news and events, allowing you to have the most up-to-date information possible.
Child Find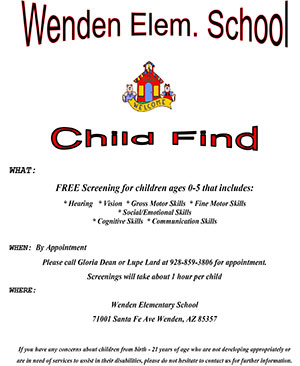 There will be free Child Find screenings for children up to five years old. They will include:
Hearing
Vision
Gross Motor Skills
Fine Motor Skills
Social/Emotional Skills
Cognitive Skills
Communication Skills
These screenings will be by appointment at Wenden Elementary School, 71001 Santa Fe Avenue, Wenden, Arizona. Please call Gloria Dean or Lupe Lard at (928) 859-3806 to schedule your appointment. The screenings will take about one hour per child. If you have any concerns about children from birth to 21 years of age who are not developing appropriately or are in need of services to assist with their disabilities, please do not hesitate to contact us for further information. Please view the Child Find flyer for the information.